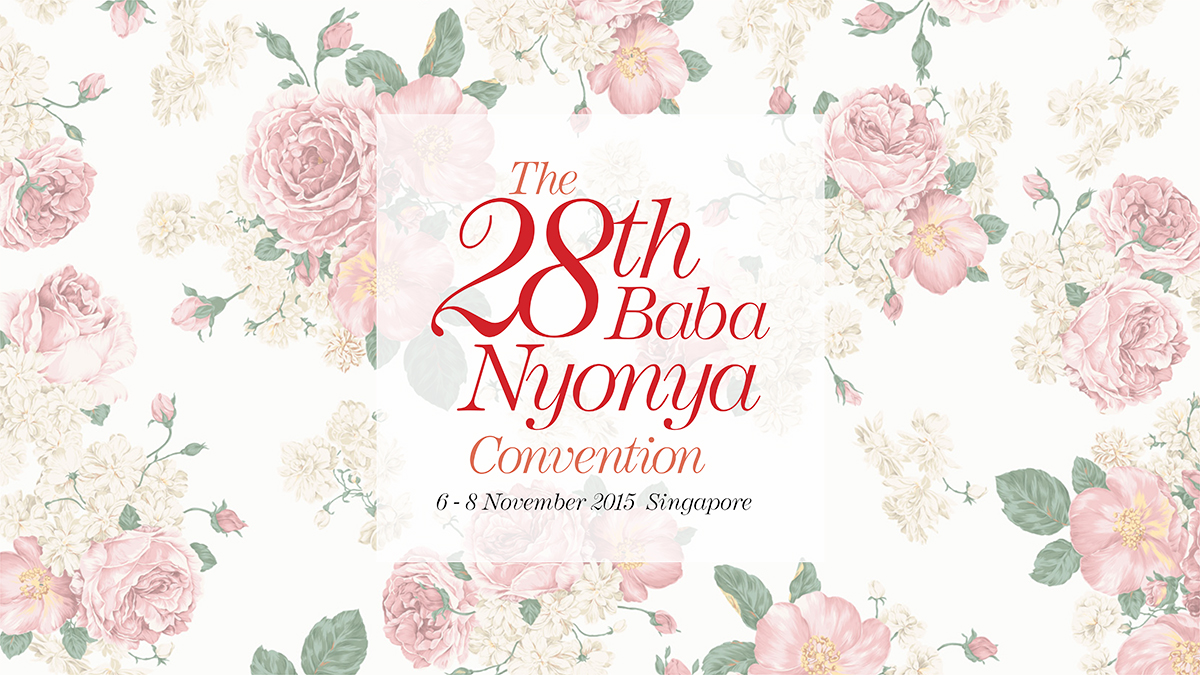 1st – 6th Nov
ARRIVAL & REGISTRATION / SHOW AT Victoria Theatre
1700 Hrs
Registration at Victoria Concert Hall
1745 – 1945 Hrs
Buffet Dinner at The White
Space, Victoria
2000 Hrs
Lights!! Camera!! Action!! – Bibiks
Behand Bars Kena Again!!
2nd – 7th Nov
SEMINAR / COMMUNITY STAGE EVENTS / CONVENTION DINNER
0830 Hrs
Doors Open at Victoria Concert Hall
0900 Hrs
Welcome address and opening of the 28th Convention – Singapore
Being Baba Book Launch – compilation of selected articles from past issues of The Peranakan. Proudly published by TPAS. For details and purchase please approach the Marshall Cavendish booth.
REALISING PERANAKAN POSSIBILITIES
Being Real About Peranakan Heritage Today, For Tomorrow
Everyone knows the colourful kebayas, the elaborate beautiful jewellery and of course, the food! But there is so much more to Peranakan, much of which seems to have been watered down over the years – the Baba Malay language, pantun, keroncong music, the bridal ceremonies and the adapt, or customs. Does not having this make us any less Peranakan today? At the heart of the 28th Baba Nonya Convention, over 300 Peranakans from Singapore, Malaysia, Thailand, Indonesia and Australia discuss the Peranakan culture and set fresh directions.
0915 Hrs
SEMINAR 1 : BABA MALAY – TODAY AND TOMORROW
Are Peranakans identified by language? Do we accept our current identity or excluding ourselves because of language? Does it really matter? This discussion examines the language of Peranakans and hopes to accept, direct and rethink the concept of being Peranakan.

Facilitator: Prof. Derek Heng (Yale-NUS)
Panel: Alvin Tan, Desmond Sim, Frederick Soh

1015 Hrs
SEMINAR 2 : THE BUSINESS OF BEING PERANAKAN – AUTHENTICITY & SUSTAINABILITY
How does consumerism affect the Peranakan culture? What are the challenges faced by Peranakans who dive into business that promote their Peranakan Heritage? This seminar discusses Peranakan Heritage as available business, nurturing and growing it, creating a demand and addressing the impact of market forces.

Facilitator : Prof. Linda Wee (NUS)
Panel : Zann Ho – Dulukala / Thomis Kwan – Foundation Jewellers/ Violet Oon – Violet Oon's Kitchen

1115 Hrs
Tea Break
1130 Hrs
SEMINAR 3 : THE PERANAKAN WISH LIST – SETTING VISIONS FOR TOMORROW
Ivan Heng facilitates this closing discussion, garnering our aspirations for the future of passing on the Peranakan legacy and taking snapshots of current time moving into the future. Join in the lively discussion as Ivan encourages your imagination to run free and wild, with real or idealistic aspirations for the future. It's all about the Peranakan Wishlist – and visions of where we want to be as a community moving forward.

Facilitator: Ivan Heng
Panel : All previous panelists

1300 Hrs
Lunch at The White Space, Victoria Concert Hall
1400 Hrs
Free & Easy to enjoy The Peranakan Arts Festival BABAZAAR
1830 Hrs
An Evening of Rekindled Friendships – Cocktails & the Grand Tok Panjang at The New Empress Lawn
3rd – 8th Nov
FAREWELL
1000 Hrs
Doors Open at Victoria Concert Hall
1100 Hrs
Pintu Pagar Play commences (optional ticket purchase)
1230 Hrs
Closing Lunch at the White Space
1400 Hrs
Selamat Jalan sampay termu lagi tahun depan!!