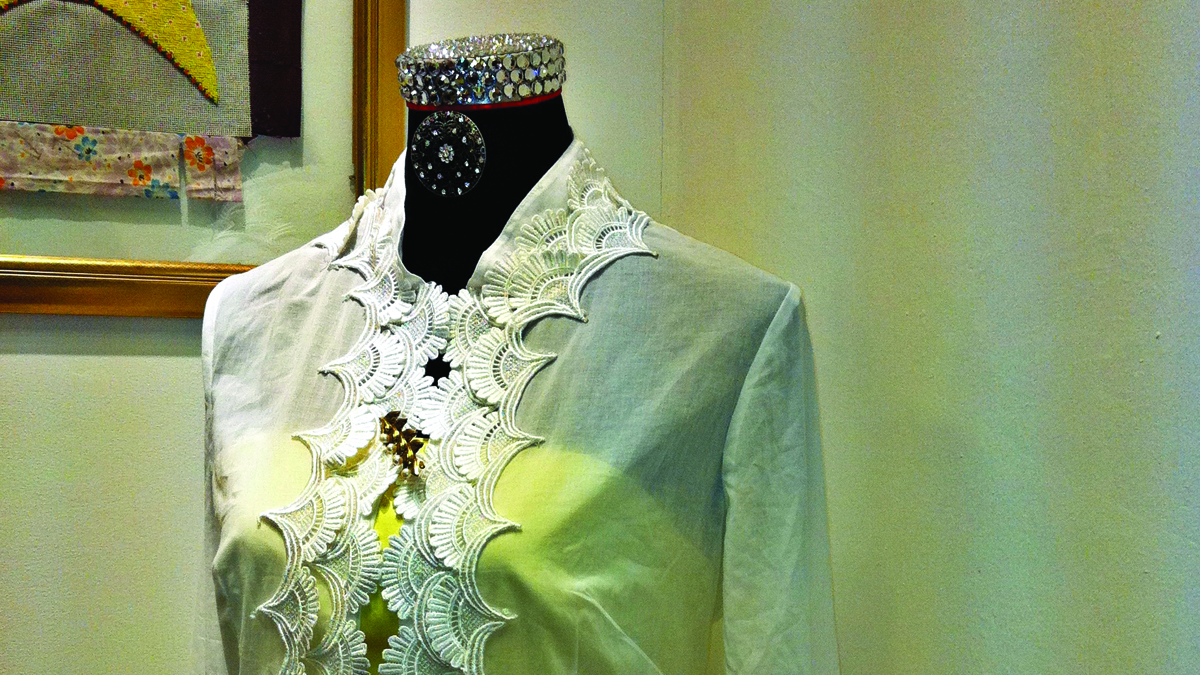 Baba Heath Yeo loves to experiment – his one-of-a-kind kebayas are wearable fantasies. Baba Emeric Lau interviews this dedicated embroiderer.
Like many of his contemporaries, Baba Heath Yeo struggles to qualify himself when asked if he is Peranakan. He knows his paternal grandmother is tionghua Peranakan from Indonesia, but his mother is Singaporean Chinese, "so I guess I'm half". Nonetheless, anyone who has seen his embroidered creations certainly won't think twice addressing him as "Baba". His growing-up memories include seeing the sarong worn often at home, listening to the adults converse in patois and inhaling the aromas of nyonya cuisine wafting out from the kitchen.
When he was enrolled at St. Anthony's Primary School, his parents selected Malay as his second language, but he was "reunited" with his Chinese classmates after his mother was consulted. In other respects, Heath had a normal childhood, often getting up to mischief with his brothers and then hiding behind their grandmother to avoid the cane!
Heath went on to study Fashion Design at Lasalle College of the Arts. He was eager to learn all about the industry. It was later, when working as a designer of formal and evening wear that he started to learn embroidery techniques. Each design had to be hand-drawn to fit the garment, and he was charmed by the simplicity of how needle and thread could render various motifs, richly shading them into life. Technically speaking, embroidery was but one method of garment embellishment, alongside beading, lacework and applique. What made it special was his recollection of his grandmother donning her beautifully embroidered kebayas and how different the effect was when compared with its use on more contemporary fashion. Heath embarked on a journey of sorts – researching books, museums, antique stores and even consulting friends who had vintage kebayas. Sadly, his grandmother's kebayas had been buried with her when she passed away.
Heath eventually found a teacher in Madam Moi of Kim Seng Kebaya who imparted the art of embroidering kebayas to him. His favourite motifs are the rose, peony, and phoenix – in general, all things flora and fauna. He likes the process of handiwork as one can vary seemingly repetitive patterns subtly – slight differences in shades and sizes of flowers on a kebaya enhance its artistry. He also likes the Chinese character for longevity (shou), and duplicated a kebaya that Madam Moi had with this character.
In 2012, he attracted attention when he designed a national costume for male pageant winner Jason Chee. With a twinkle in his eye, Heath recalls that there was very little "time, resources and fabric" to work with, and while some derided the look – "Javanese rent boy" was one critic's assessment – he was not hurt as he understood that the comments were not to be taken too seriously. The piece was, after all, meant for a stage segment in a beauty pageant. He is also grateful that veteran fashion designers Francis Cheong and Hayden Ng gave it the thumbs up.
Today, Heath continues to experiment with his designs. His facebook wall sports a photo of supermodel Christy Turlington printed on a kebaya. In fact, printmaking is another technique that Heath admires, and he cites Peter Teo's work as a strong influence. The Christy kebaya is one commendable attempt to evolve away from traditional expectations. He hopes more designers will look towards the kebaya for inspiration. On his part, he seeks inspiration from nature and in natural settings; he also continues to visit museums and bookshops for fresh ideas.
Looking towards the future, Heath believes that the kebaya's form will change. He has a strong affinity for traditional methods, including sulam produced on a manually-operated Singer sewing machine for its singular uniqueness, but also acknowledges that industrial-scale machines can embroider kebayas at a faster pace and in ever more sophisticated designs. Quality voile and silk should never be compromised, and if possible, there should always be some evidence of the embroiderer's hand to ensure finesse in the final product and a bit of personalisation.
Recently, Heath has held mini exhibitions and 'live' embroidery demonstrations. His works were also included as part of OH! Open House @Joo Chiat. "I want more people to experience the beauty of kebaya sulam; it deserves its place alongside traditional techniques such as Indian embroidery and hand-embroidered Chinese silk – above all, it is unique to us."