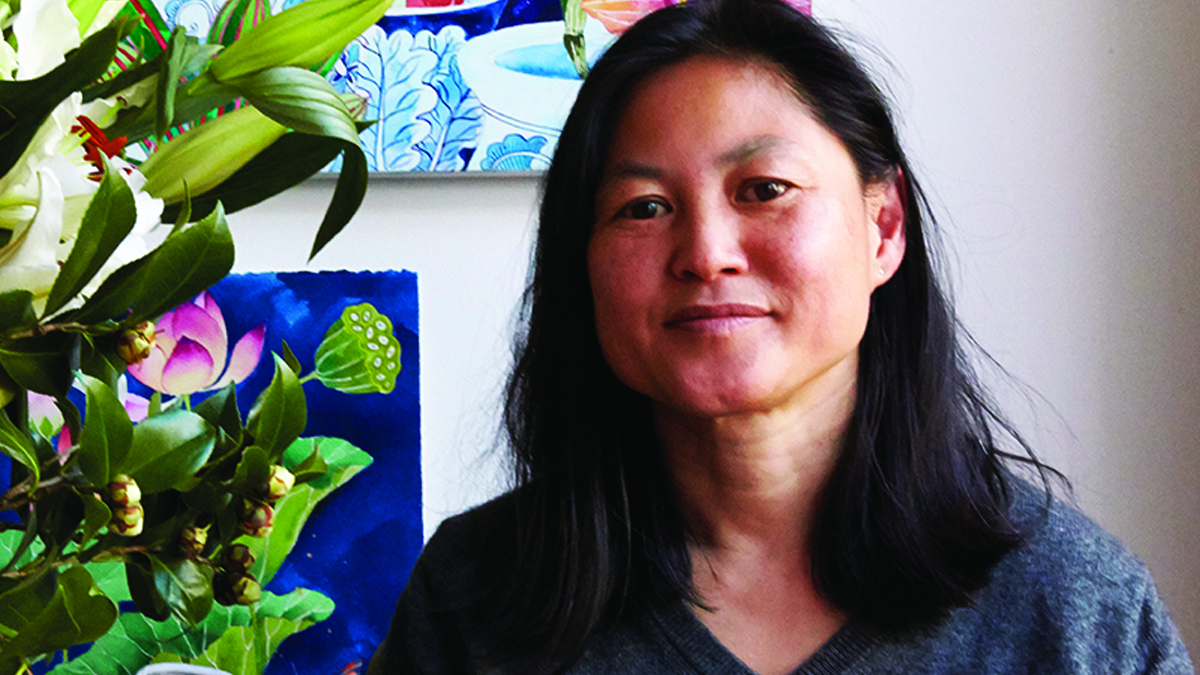 The serene florals of artist Gabby Malpas' paintings barely hint of the storied life she has led as a transracial adoptee, Baba Emeric Lau discovers.
"The road less travelled" is a phrase often used by artists to describe the course of their lives. For Gabby Malpas, however, that choice was made for her. While scouring for Instagram pictures with the "#Peranakan" hashtag, I chanced upon Malpas' captivating paintings of flowers arranged in Peranakan porcelainware and sent her an email. She responded swiftly and readily opened up about her life…
Growing Pains
Malpas was born in 1966 in Auckland, New Zealand. Ethnically, she is "100% Chinese", although the revelation that she wasn't white, like the rest of her adoptive family occurred fairly late: "I did not see myself as Asian at all until I hit late teens or early 20s." Hers was a "closed adoption", meaning that there were no real avenues for the adoptee or birth family to contact each other. Her birth certificate furnishes only the adoptive parents' names, alongside "ADOPTIVE" in capitals.
After a couple of unsuccessful attempts, Malpas made contact with her birth mother in 2004, and reunited with her later that same year. She describes this as the start of a healing process that continues today. She faced the complexities of being a transracial adoptee – especially in very white New Zealand during the 70s and 80s – and often encountered bullying and racism, which prompted her to leave for good in 1988. Conversely, she experienced culture shock when travelling around Asia, and realized that she had internalised much "white privilege".
Nonetheless, Malpas empathises with her birth mother, and understands that the latter faced the trauma of giving birth alone in a foreign land, followed immediately by the pain of losing a child. Knowing her full ethnic heritage has made a huge difference in her artwork and life attitude: she has a strong affinity for things Asian.
She prefers Asian food, and lists Vietnamese pho, Hainanese chicken rice, Thai larbs, sushi, Asian curries and soups amongst her favourites. After switching to an Asian diet while travelling the continent, she found she was no longer affected by eczema and hayfever.
The Painter Emerges
Malpas was encouraged to draw as soon as she could hold a pencil: "Mum and Dad had marked me out for art school at an early age as somewhere in the adoption papers it stated that my mother was an artist. I didn't fight against that – I embraced it."  She is grateful for having been given this life mission and enjoys much recognition for her output.
At art school, she chose ceramics as a major. When she was learning to throw on the wheel, her shapes all came out as classic Han Chinese forms.  This was at odds with the very European, Japanese and masculine style of throwing at Otago where potters dug their own clay from the land and made robust and texturally rough pieces.
After art school, she began to paint on paper using inks. Malpas continued to make art even while working punishing hours, honing her technique over the years. She worked for a spell as an art editor at Oxford University Press, and reels with amusement at the sheer Englishness of the place: "It could have been straight out of an Evelyn Waugh novel."
Since meeting her birth mother, however, Malpas' work has exploded with "Asian-ness".  She terms it Chinoiserie, in reference to the romanticised, Western view of Asia that was initially developed for Europeans.
Malpas is fascinated by the fusion (or rather, profusion) of Eastern and Western elements in Peranakan culture. She first encountered Peranakan objects in Malaysia, and was also introduced to Indonesian batiks which she finds the most beautiful fabrics in the world. She purchased a Peranakan teapot in Penang and it stars in many of her paintings. Cross-cultural elements permeate Malpas' artwork in a manner that may seem jarring to purists; quite unwittingly thus, she challenges stereotypes.
Navigating East and West
Malpas counts herself fortunate to straddle two cultures. "I was lucky to be born into a country with fantastic education opportunities. With an art school background, I was able to get into jobs that would have been off-limits to others due to class distinctions. I am learning a lot about Asian culture and am an avid reader of modern Chinese fiction and non-fiction. When I am in Asia I am surrounded by people who look like me and it makes me feel at peace but strangely curious at the same time.  If I am not with my husband I will happily walk anywhere in a strange city – though I know I do not fit in and as soon as I open my mouth the game is up. My life experience has been unique to say the least – and I'm glad about that."
She would love to exhibit in Singapore and is keen to see how an Asian audience reacts to her work. She also desires to learn more about Peranakan culture. But first, she would like this magazine's readers to point her in the direction of the best Hainanese chicken rice!